One of the things that made me more comfortable about living on the island rather than the city life I am used to, was the discovery of the Sunday night drag act at Ragamuffins restaurant in Holetown. One of my gay friends jokes that I could find a drag act in a women's prison so it was no surprise that I found this great act on the island.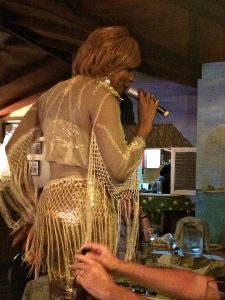 Throughout the years and places I have lived, I have been to many drag shows. A Sunday pub lunchtime drag show was common place when I living in Brighton after University, and during my recent couple of years back in London the annual "adult" pantomime on a barge in south London was unmissable and a seasonal must do. Until you have seen a "Miss UAE" strip from full Burka, revealing a gold bikini, full beard and hairy chest whilst miming and dancing to Tina Turner's "Private Dancer" you have not appreciated the full range of drag. Ooh, then there was the time we went to a drag act that was actually someone's house converted into a dining and cabaret night with the strangest articles of clothing hanging from the rafters. We ate from an eclectic range of plates, with one being a royal wedding souvenir plate (Charles & Diana) which amused us.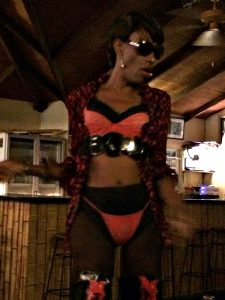 So, with my worldly drag and cabaret experience from my city living, I did not have high hopes and thought it was going to be a bit "ropey". I was delightfully surprised! The acts were just fabulous and very professional. The outfits were vast and stunning. The shoes were to die for with heels so high that I wondered how on earth the ladies could walk in them, let alone dance and kick their legs up to the ceiling with such style.
The songs were great and the performers exuded so much energy, despite being in competition for volume with the neighbouring karaoke bar, that the audience were in raptures. We all clapped along and laughed at the "sassy" commentary in between songs. The acts integrated with the crowd to much amusement, with my husband (and many others) sitting with a frozen smile of "don't pick on me"! They did and I laughed. Heartily.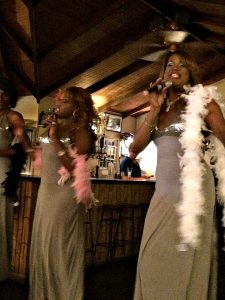 I once saw one of the performers in our local supermarket and had to smile and wink at them, resisting the urge to run over yelling "You were fabulous last time I saw you!".
Living on a rock can initially be hard but I never thought that my adaption to island life would involve a drag act in a small restaurant! What fun!