Crop Over is the Barbados Festival held to celebrate the end of the sugar cane harvest season and ends with the Kadooment Parade and Carnival on the 1st Monday of August. It is a colourful explosion of culture, music and dance. The island is full of chat about where you are "jumping" or "feting" and there is a charge in the air about the last final weekend.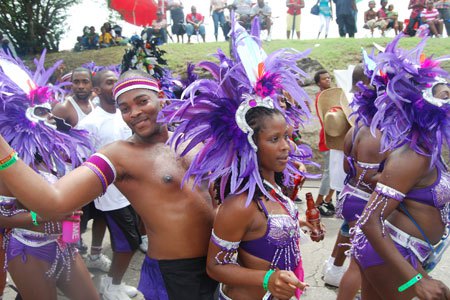 You know it's Crop Over When
Feathers and beads have been completely sold out from the craft shop.
Wine, beer and rum are all reduced in price. It's better than Christmas!
Shoe shops are crammed with boots in their window displays.
You know all the lyrics to the winning "Sweet Soca Monarch"song that year. Previous year's songs bring a smile to your face and a wiggle of your hips. Wherever you are.
Exercise classes are everywhere urging you to get your body "Crop Over Ready".
Tights and stockings are sold out.
Music bass levels for outdoor events reach earthquake stage.
Even the "Dollar-Wise" shop is selling portable drinks containers.
You mistakenly drive down Spring Gardens in the early hours of the Foreday Morning Jam and get stuck behind trucks of paint covered people. They look tired but happy. You have to do the weekly market shop and sob a little bit inside as you would like to swap places.
Hair and nails are magnificent with bright colours everywhere! Even a few elderly ladies shopping in Bridgetown are sporting brightly coloured hair.
You see the word Fete (pronounced "fett") and mistake it for the British word Fete. It is not a tea and sandwich affair, with the vicar's wife running a tombola stall but a lively party, full of rum and loud music.
Go forth, drink some rum and wiggle your way through the party crowds!