St Lucia is the 3rd Caribbean island we have lived in and it's now been the longest amount of time we've lived on an island. All of the Caribbean islands have their own charm, but St Lucia is our favourite place to live.
We are here as residents on the husband's working visa. It can be quite hard to obtain a working visa depending upon your skills, as you need to have the experience and qualification that a local does not. There is talk of St Lucia following in the footsteps of Barbados with their work remotely for 12 months visa though. So, keep hopeful for a year in paradise!
Other ways to move to St Lucia are through the Citizen by Investment Program with a minimum requirement of $100,000 US dollars. Or you could purchase property here for residence without a work permit. I believe this requires permission from the Minister of Legal Affairs. I've met a few expats who have purchased property and retired here so I don't believe it's too problematic.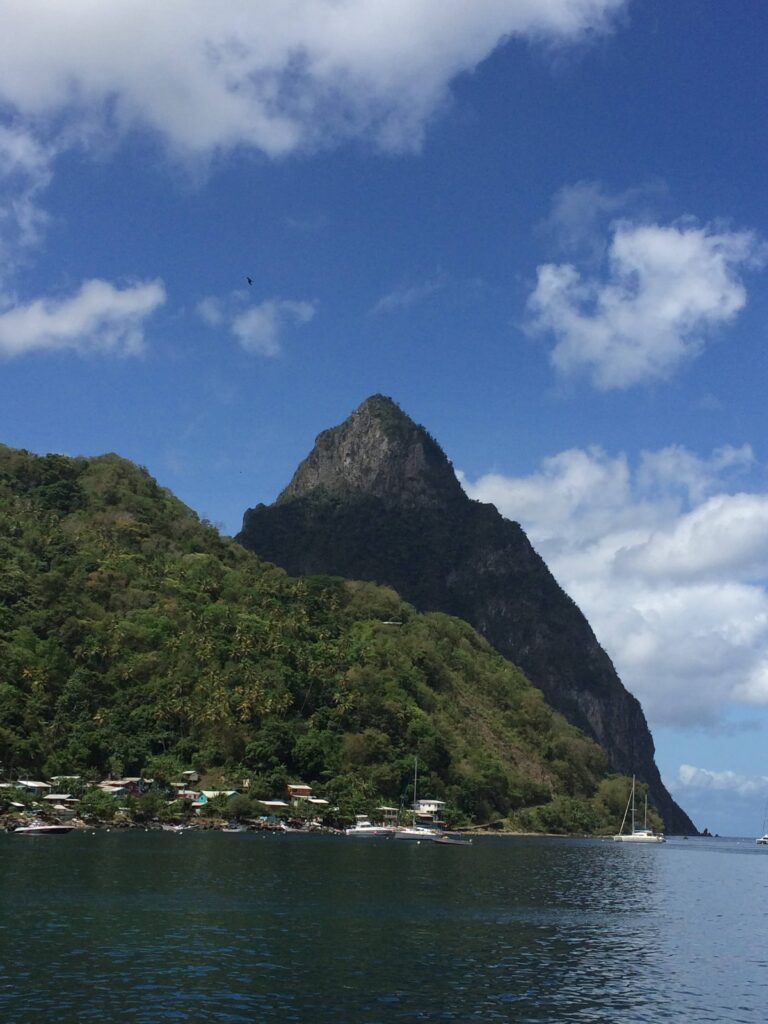 If you are considering a move to St Lucia here are 10 reasons why you should!
Stunning island – The Caribbean does have a large choice of pretty islands, but St Lucia is simply gorgeous with its lush rainforests, waterfalls, golden beaches and the astounding Pitons. Everywhere you look is a delight to the eyes.  The landscape is full of curves, rather fitting for an island named after a woman!
People – St Lucian's are friendly and full of genuine smiles and laughter.  We were made to feel at home as soon as we arrived here!  Personally, I love the sense of humour that St Lucian's have and am often roaring with laughter.
Water activities – If you enjoy water sports, there is a great choice. From kitesurfing, diving, snorkeling or a range of boat trips, you will enjoy your time in or on the Caribbean Sea.
Island hop to Martinique – Martinique is a more modern Caribbean island with large European supermarkets and shopping malls that can be visited daily via a Ferry.
Sea food – If you are a lover of sea food you are in for a treat.  We have a great range that is caught daily and purchased from fisherman.
Great rum – The two main brands of rum are Chairman's and Bounty. Both are full of flavour, but I do enjoy a glass or two of a Chairman's Reserve. On ice with just a dash of coconut water (to drown the rum with a mixer is sacrilege!)
Weather – Although we do have our own "seasons" the temperature is quite steady throughout the year. Our dry season will have hotter temperatures and less wind which has you spending more time in the pool. Hurricane season will bring more rain, but it helps keep the island lush and tropical. The rain often passes and I only sulk for about a total of a week a year with the bad weather keeping me inside.
Weekends at the beach – If you enjoy the beach, then weekends in St Lucia are perfect for you! It's where friends and family gather for BBQ's, a swim in the sea and also enjoy watersports. The happy vibes of a good beach day at the weekend set you up for the week!
Live where others vacation – Is there anything better than living on a tropical island where other vacation?  Your first year can feel like a holiday with no need to travel for a couple of years whilst you enjoy everything that St Lucia has.
Great music festivals – There are a few music festivals throughout the year with the Jazz Festival being the main event. I remember hearing about it when we lived back in the UK and thinking how wonderful it would be to attend!  It's a fantastic week of music in various venues around the island but I particularly like the setting in Pigeon Island.  Dancing to music, with a glass of rum in your hands and looking out to the sea is a great evening out!